Harnessing past and future ambitions
Spinnaker Tower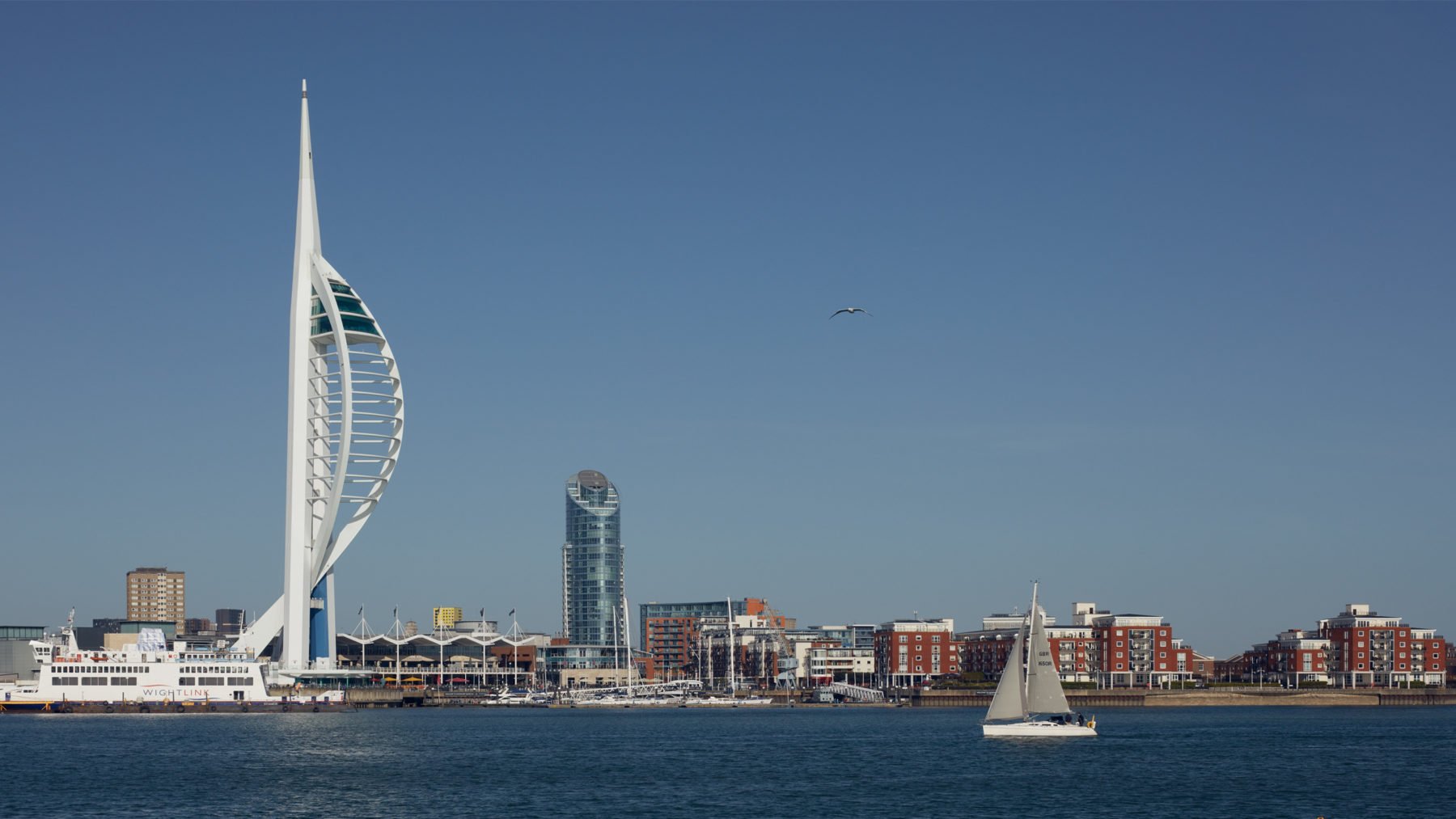 Sited in the harbour and surrounded by Portsmouth's great naval history, Spinnaker Tower boldly signifies a new forward looking era for the city.

The linchpin to Gunwharf Quays' successful regeneration, and just a short distance from the historic dockyards, Spinnaker's elegant shape rises 170m out of Portsmouth Harbour providing the city with an international landmark tower.

From this emerged an international collaboration between ourselves, German tower engineers Leonhardt, Andrea und Partner, and Berkley as we were selected to develop our winning proposal. Working closely with this team, we were dedicated to inputting our design and technical knowledge towards the completion of each stage of project development.

The notable, slip-formed concrete hexagonal shafts converge to meet at a viewing platform 100m above ground level. This provides a near 360 degree vista with breath-taking views of Spice Island, Gosport, the Solent, South Downs, the Isle of Wight and the ferries travelling back and forth to mainland Europe and beyond.

A glass floor, the largest in Europe, offers visitors a dynamic, bird's eye view straight down the section of the tower to commercial and maritime activities at ground level, augmenting the elevated experience. Crowning this is a 27m high glass-reinforced plastic spire.

The execution of this remarkable feat of design and engineering, on such a restricted site and next to a busy retail hub was an amazing achievement and landmark moment for the city.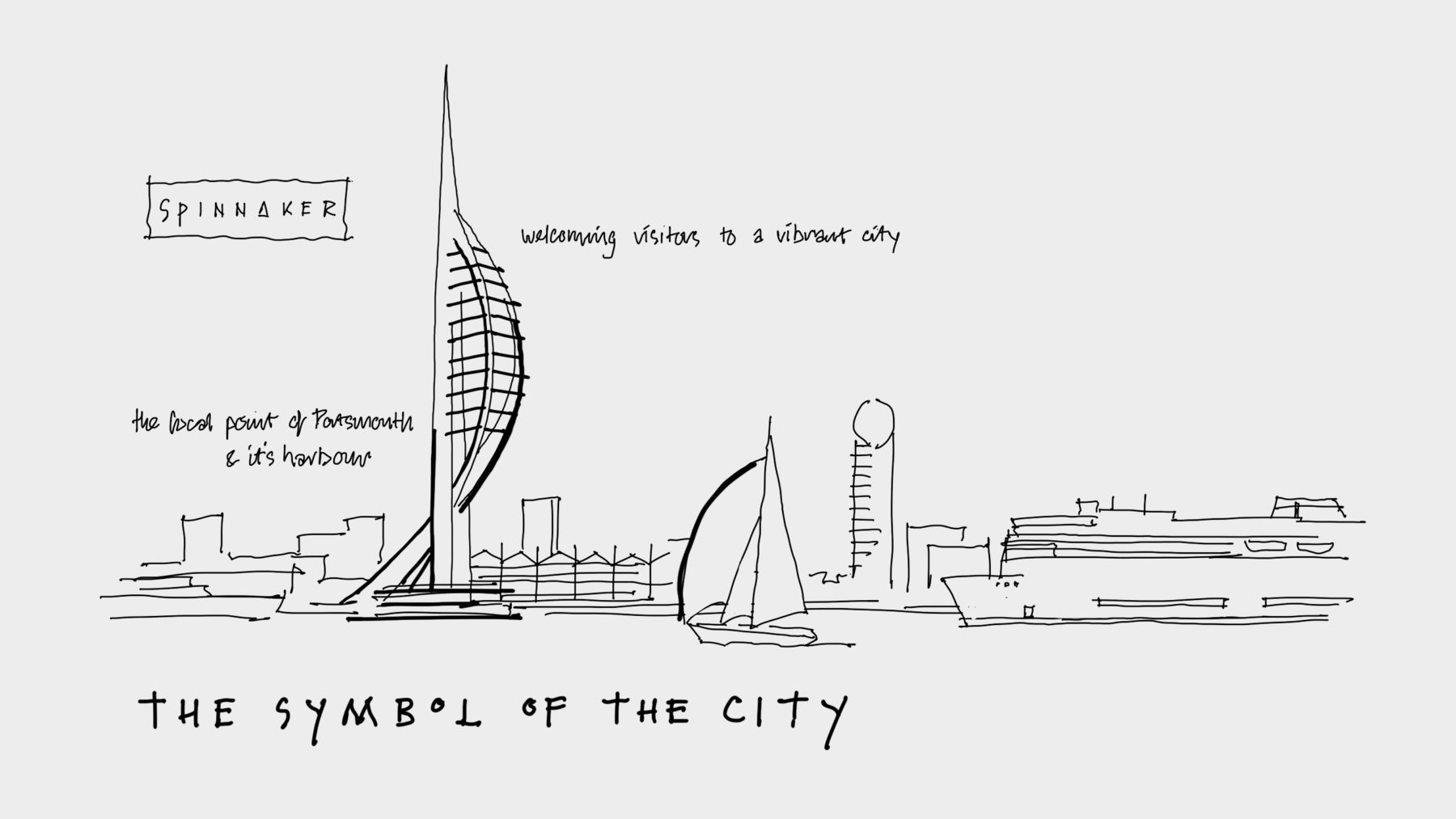 A source of pride for Portsmouth and the South East, the design was chosen by the people from the 1997 Renaissance Harbour bid to provide the city of historic towers with an iconic emblem of modernity.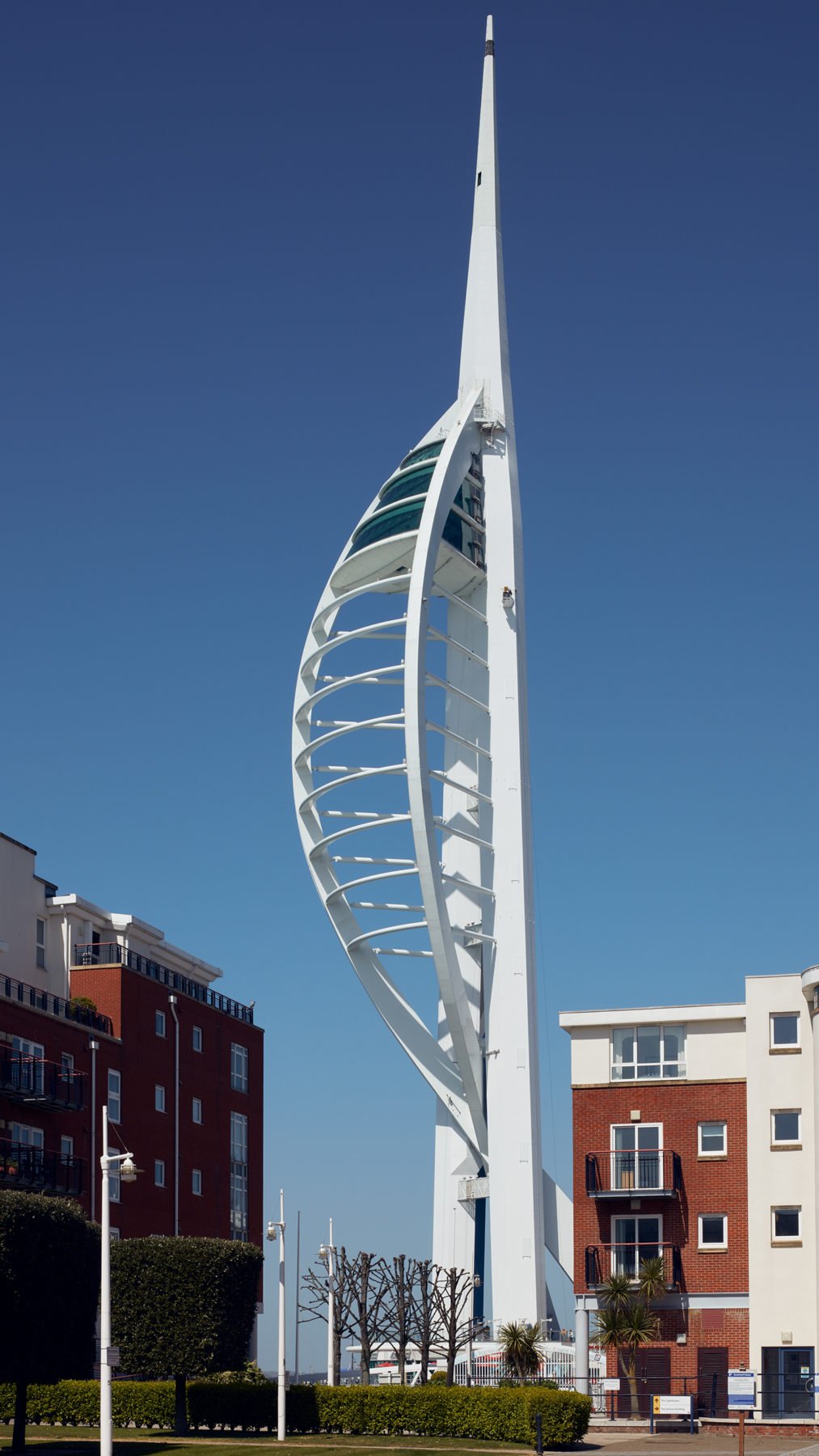 The tower's interlocking steel bows, envisioned by HGP to resemble billowing Spinnaker sails, were constructed by Butterley engineering ltd from 52 main sections, and together with eight steel ribs between them help to give the tower stability and an elegant structural expression.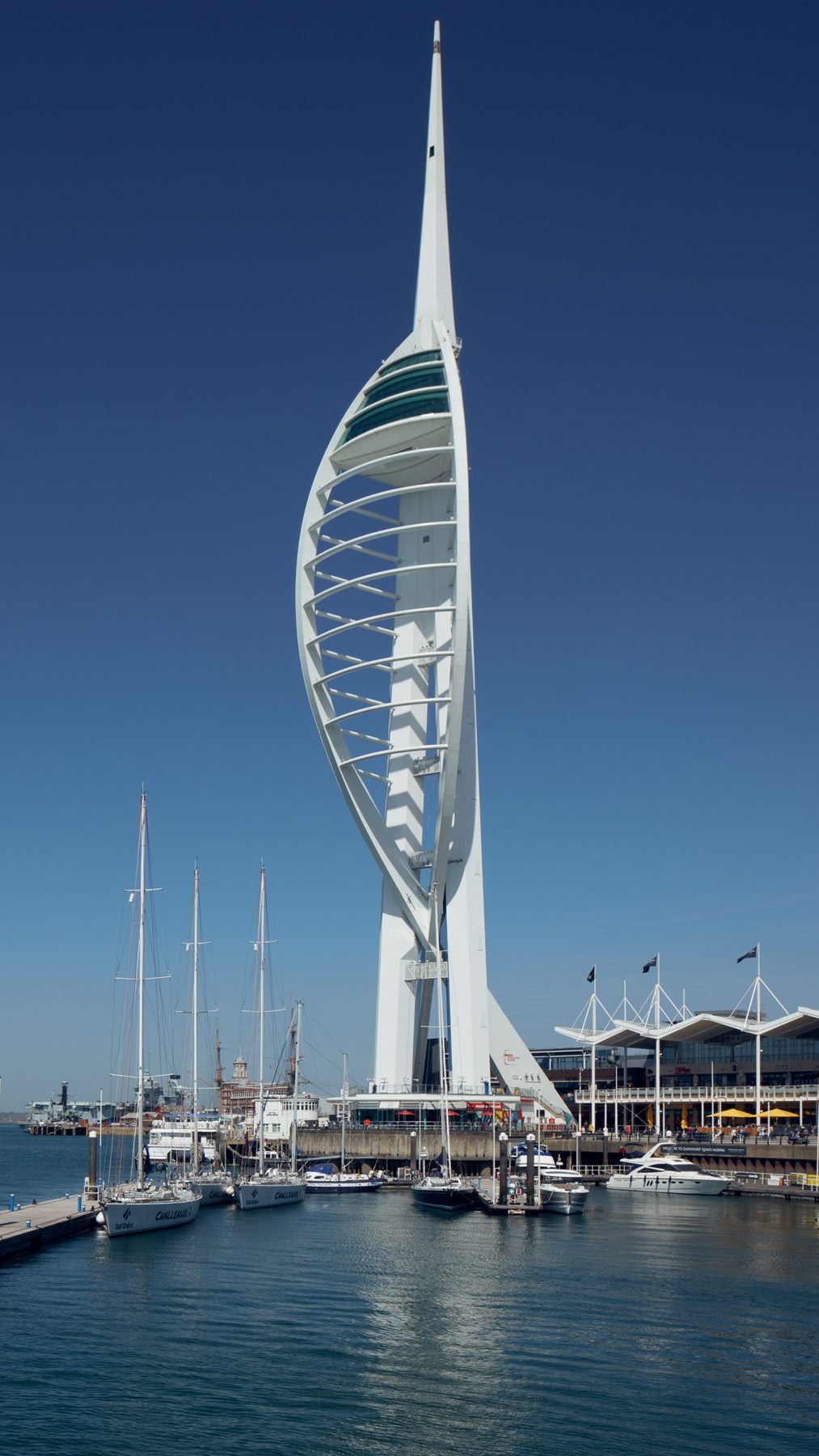 The design, inspired by an integration of space, form and function, came to resemble a spinnaker sail which eventually lent the tower its name.
Taller than London Eye, Blackpool Tower and Big Ben, the Spinnaker Tower has already established itself as a national icon for Britain.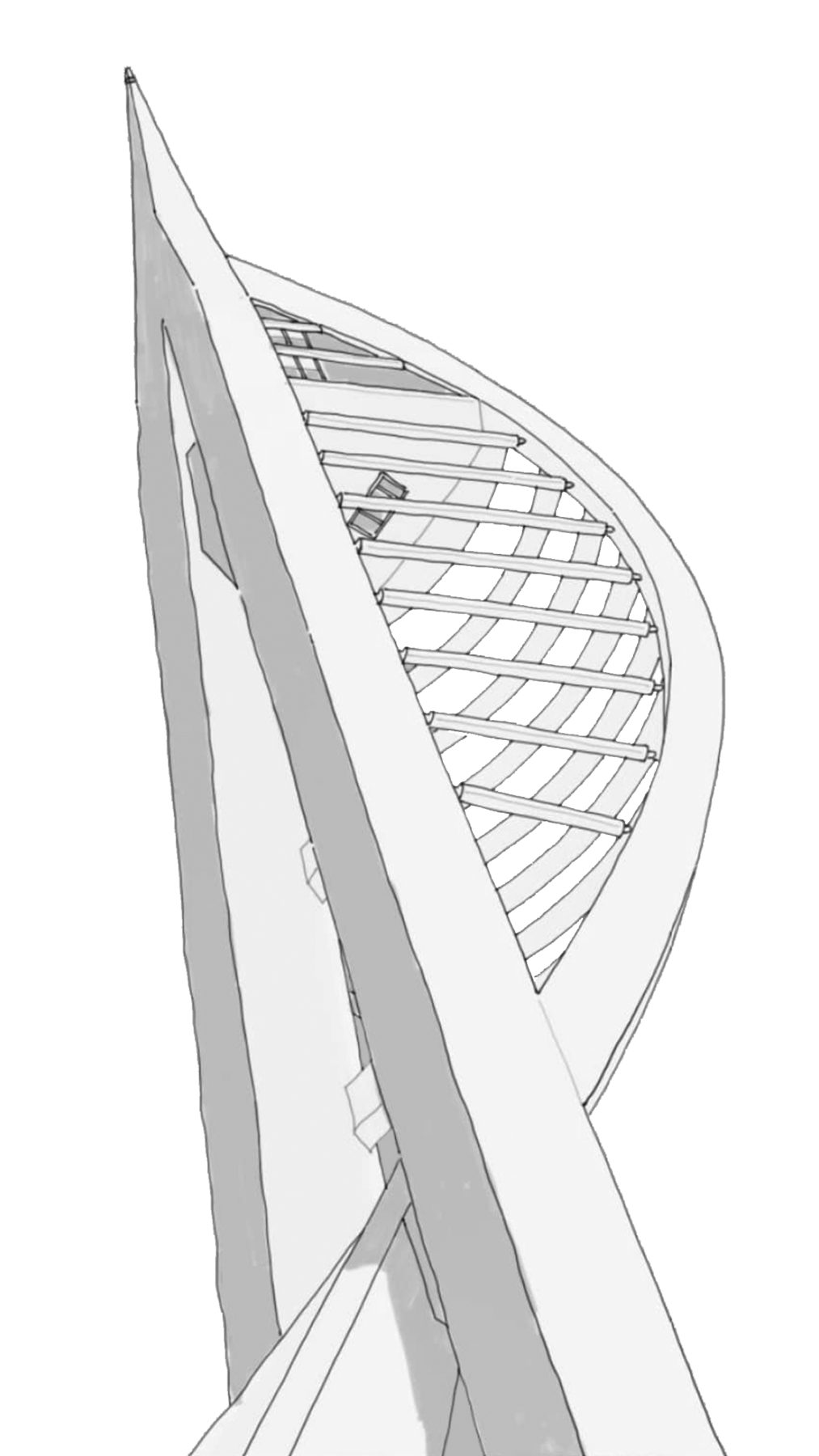 Awards
Best Bar None 2008 –  Winner, Leisure Complex
National Lottery Awards 2006 – Winner, Southern Region
RICS Awards 2006 – Winner, Project of the Year
RICS Awards 2006 – Winner, Regeneration
Portsmouth Society 2006 – Winner, Best New Building